See More of Life® with LASIK
Triad Eye Institute is proud to offer the Tulsa's newest, next-generation LASIK technology.
With LASIK, a corneal flap is made using an ultra-fast, femtosecond laser. Then an excimer laser is used to correct the vision to the patient's unique specifications. Traditional LASIK still uses a handheld device called a microkeratome to create the initial corneal flap, but with LASIK at Triad Eye Institute, the procedure is completely blade-free.
Plus, every LASIK procedure at Triad Eye Institute is performed by Ryan P. Conley, D.O., eastern Oklahoma's leading cornea specialist.
Watch Kelli's LASIK Story
Watch Tabatha's LASIK Story
Meet Dr. Conley
Ryan P. Conley, D.O. is a board-certified ophthalmologist and fellowship-trained cornea specialist. He has established himself as an advanced cataract surgery specialist, performing the first LenSx laser-assisted cataract surgery in the state of Oklahoma.  He also performs LASIK blade-free vision correction, refractive lens implant surgery and various corneal transplant procedures.
Dr. Conley is a member of the American Academy of Ophthalmology, American Osteopathic College of Ophthalmology Otolaryngology Head and Neck Surgery, American Society of Cataract and Refractive Surgery, American Osteopathic Association, and Oklahoma Osteopathic Association.
The IntraLase Difference
The accuracy of the IntraLase is measured on a micron-level.  This means our surgeons have more control during the procedure and have the ability to completely tailor the size, shape, and depth of the corneal flap based on the patient's individual eyes. This level of customization provides excellent outcomes and the possibility for greater than 20/20 vision in the months following the procedure. The IntraLase Method takes approximately 15-30 seconds per eye and a total of 10 minutes for the entire LASIK procedure. IntraLase provides the most sophisticated and accurate technology for corneal flap creation available today. Our LASIK surgeons have selected the latest generation of IntraLase because it is safe, proven, and uniquely precise. Over a million procedures have been performed safely and effectively using IntraLase. In fact, iLASIK has been proven so effective, that it has been approved by the U.S. Department of Defense for use on front line combat personnel.
What are the Advantages of the iLASIK Procedure?
Laser Vision Correction Has Never Been Better…
The iLASIK Procedure is the result of over a decade's worth of technical refinement – it combines all of the latest all-laser LASIK technology in one efficient LASIK procedure.
There's No Mystery…
You've heard thousands of LASIK ads touting thousands of different things, but the iLASIK Procedure delivers outstanding results, one integrated technology solution and one easy way to better vision.
It's Truly Personalized…
The iLASIK Procedure is truly customized just for you.  Everything is based on your individual vision dynamics.
Learn About iLASIK from Dr. Conley
The Benefits of iLASIK
A Faster Procedure & More Comfortable Experience
Less Exposure to the Laser
Increased Precision
Appropriate for More Vision Types
Greater Opportunity for Sharper Vision
Experience Life with Fresh Eyes!  Sharp Vision Starts Here.
When IntraLase is combined with CustomVue Wavefront LASIK, it's called iLASIK. Patients who elect this treatment option are receiving the most customized flap creation and the most customized LASIK procedure possible.
Best of all, iLASIK makes laser vision correction a reality for many patients who were not considered candidates for traditional LASIK procedures.
Watch The Real Story About iLASIK
Watch LASIK on the Frontlines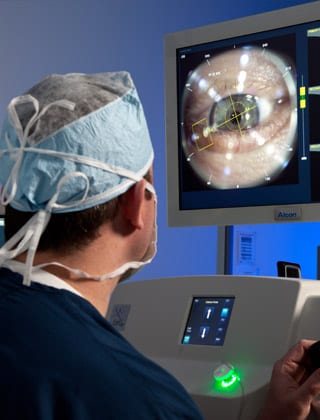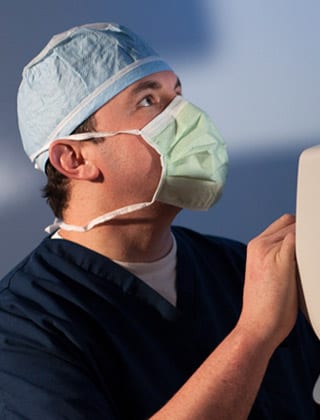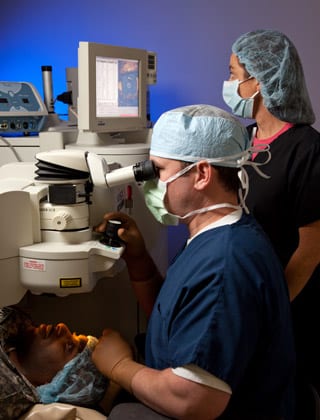 Schedule a FREE Consultation
We encourage you to schedule a FREE iLASIK screening with Triad Eye Institute today. During our meeting, we will advise on whether or not you're an ideal candidate for iLASIK Surgery, as well as compose a custom treatment plan designed to achieve the clear vision you've always wanted. Call our office today and one of our seasoned staff members will be able to assist you.