The LipiFlow® Thermal Pulsation System

Triad Eye Institute is proud to offer LipiFlow, a revolutionary treatment for evaporative dry eye. Lipiflow is part of the TearScience® system which is a comprehensive, three-part evaluation of your eyes and their ability to produce tears and properly moisturize your eyes.
Following your comprehensive exam and diagnosis of evaporative dry eye, the LipiView® interferometer will enable Triad Eye to assess your tear film by capturing images that measure the thickness of the lipid (oil) component. This process is non-invasive and takes about five minutes.
The LipiView® Interferometer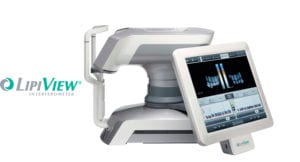 Next is a closer look at what's happening at the gland level. With the use of the Meibomian Gland Evaluator™ we can examine the quantity and quality of lipids (oils) being released from your glands.
The TearScience® evaluation is part of your overall Dry Eye assessment. Knowing what is causing your Dry Eye will help our team determine the best treatment option for you.
If your dry eye is severe, may be a candidate for LipiFlow®, an advanced procedure designed to treat the root cause of Evaporative Dry Eye, blocked Meibomian glands. Opening and clearing these blocked glands can allow them to resume natural production of lipids (oils) needed for a healthy tear film.
The LipiFlow® Thermal Pulsation System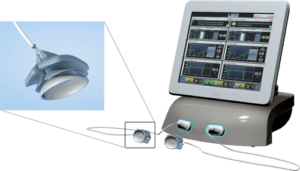 At the heart of the LipiFlow® Thermal Pulsation System is the Activator (eyepiece). The Activator uses patented, precisely controlled heat applied to the inner eyelid with adaptive pressure encouraging your body to resume the natural production of lipids (oils) needed for your tear film.
Schedule a Consultation
We encourage you to schedule a consultation with Triad Eye Institute today. During our meeting, we will advise on whether or not you suffer from dry eye syndrome, as well as compose a custom treatment plan designed to achieve the clear vision you've always wanted. Call our office today and one of our seasoned staff members will be able to assist you.