Ex-PRESS™ Glaucoma Filtration Device
The Ex-Press Mini Glaucoma Filtration Device has been available internationally for almost a decade with almost 35,000 implantations worldwide. The device shunts aqueous humor from the anterior chamber to a subconjunctival reservoir in a similar fashion as trabeculectomy, without removal of any sclera or iris tissue.  It has proven to be beneficial when medication and conventional surgical treatments have failed.
The device was originally developed by Optonol, Ltd. for implantation under the conjunctiva for controlling intraocular pressure (IOP). This biocompatible device is almost 3 mm long with an external diameter of approximately 400 microns.1 It is a non-valved, MRI compatible, stainless steel device with a 50 micron lumen. It has an external disc at one end and a spur-like extension on the other to prevent extrusion.
Benefits of the Ex-PRESS™ Glaucoma Filtration Device
Significant reduction in intraocular pressure (IOP)
A decrease in the use of IOP-lowering medication
Lower rates of post-op complications versus traditional surgical therapies
A faster return to near baseline visual acuity versus the trabeculectomy
Fewer post-op visits versus the trabeculectomy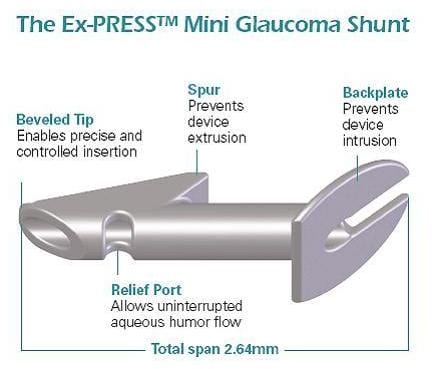 Meet Dr. Ahluwalia
Mary Anne Ahluwalia, D.O. is a board-certified ophthalmologist and fellowship-trained glaucoma specialist at Triad Eye Institute.
Dr. Ahluwalia performs comprehensive eye exams along with medical and surgical treatments for glaucoma, including microinvasive glaucoma surgery (MIGS), trabeculectomy and the implantation of glaucoma drainage devices.
Dr. Ahluwalia is a member of the American Glaucoma Society and American Academy of Ophthalmology. Dr. Ahluwalia is an active member of Leadership Tulsa and currently serves as a board member for the Autism Center of Tulsa and Tulsa Advocates for Rights of Citizens with Developmental Disabilities (TARC).
Schedule a Consultation
We encourage you to schedule a consultation with Triad Eye Institute today. During our meeting, we will advise on whether or not you have Glaucoma, as well as compose a custom treatment plan designed to achieve the clear vision you've always wanted. Call our office today and one of our seasoned staff members will be able to assist you.