Monofocal Intraocular Lenses
For patients with cataracts in both eyes, a Monofocal Intraocular Lenses may provide the most benefit. A monofocal IOL is an intraocular lens with a fixed focus for one distance. A cataract doctor may select monofocal IOLs that are for near focus, for mid-distance focus, or for distant focus. Only one of these three can be selected and the focus will not change after surgery.
Like your eye's natural lens, an IOL focuses light that comes into your eye through the cornea and pupil onto the retina, the sensitive tissue at the back of the eye that relays images through the optic nerve to the brain. Most IOLs are made of a flexible, foldable material and are about one-third of the size of a dime. Like the lenses of prescription eyeglasses, your IOL will contain the appropriate prescription to give you the best vision possible.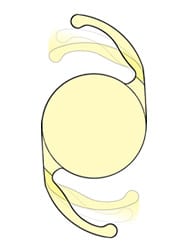 Visual Performance When it's Needed the Most.
Learn More About Monofocal Lenses
Traditional cataract surgery would provide the focus of both eyes for distant objects and the patient would use reading glasses to see near objects. The vast majority of cataract patients elect to have monofocal IOLs in both eyes set for distance vision and then use reading glasses to see objects near.
This is not to be confused with Monovision where one eye is corrected for distance and the other is corrected for near vision.
About Monofocal Intraocular Lenses
Meet Dr. Conley
Ryan P. Conley, D.O. is fellowship-trained, board-certified ophthalmologist who performs advanced cataract surgery. In 2012, Dr. Conley performed Oklahoma's first LenSx® laser-assisted cataract removal procedure.
He also performs LASIK blade-free vision correction, refractive lens implant surgery and various cornea transplant procedures.
Dr. Conley is a member of the American Academy of Ophthalmology, American Osteopathic College of Ophthalmology Otolaryngology Head and Neck Surgery, American Society of Cataract and Refractive Surgery, American Osteopathic Association, and Oklahoma Osteopathic Association.
Schedule a Consultation
We encourage you to schedule a consultation today. During our meeting, we will advise on whether or not you're an ideal candidate for Cataract Surgery with Monofocal Intraocular Lenses, as well as compose a custom treatment plan designed to achieve the clear vision you've always wanted. Call our office today and one of our seasoned staff members will be able to assist you.