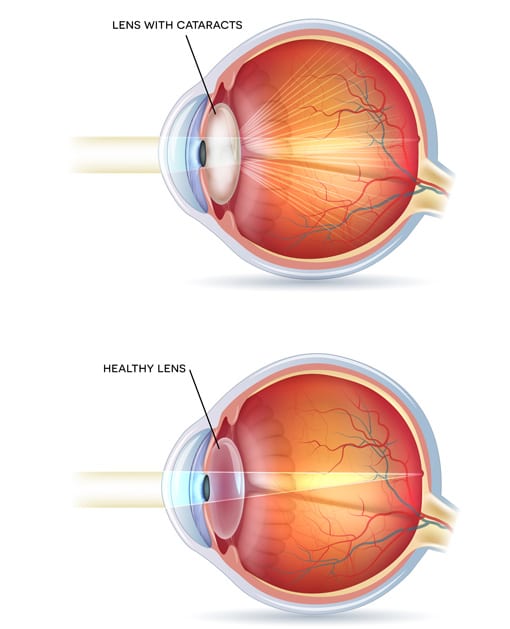 What is a Cataract?
Your eyes' lenses are comprised of mostly water and protein and that protein can bind together as we age. This clump of protein forms a cloudy area in the lens making it difficult to see. By age 60, nearly half the population will have at least one eye affected by a cataract. Cataracts develop slowly over time and are painless. If left untreated, a cataract can lead to blindness in the affected eye.
Symptoms of Cataracts
Blurred, Foggy or Cloudy Vision
Blues and Greens Appear Faded
Difficulty Reading Small Print
Double Vision
Seeing Halos Around Bright Lights
What causes cataracts to form is largely unknown, but there are certain risk factors that make cataracts more likely. These factors include aging, sunlight exposure, smoking, poor nutrition, specific medications, chronic diseases and past trauma to the eye. Typically, the only treatment for cataracts is to remove the cloudy lens and replace it with an artificial lens, called an intraocular lens. Cataract surgery is the most common outpatient surgery performed in the U.S.
A Closer Look at Cataracts
Cataract Surgery at Triad Eye Institute
Comfortable, Outpatient Procedure
Latest Technology and Treatment Methods
Oklahoma's FIRST LenSx® Laser-Assisted Cataract Surgery Provider
Triad Eye Institute provides different treatment options depending on the severity of your cataracts.
Talk to the Physicians at Triad Eye Institute
At Triad Eye Institute, we provide our patients with a comfortable experience and the peace of mind knowing our surgeons are using the latest technology and treatment methods to ensure the best outcome possible.
Meet Dr. Conley
Ryan P. Conley, D.O. is fellowship-trained, board-certified ophthalmologist who performs advanced cataract surgery. In 2012, Dr. Conley performed Oklahoma's first LenSx® laser-assisted cataract removal procedure.
He also performs LASIK blade-free vision correction, refractive lens implant surgery and various cornea transplant procedures.
Dr. Conley is a member of the American Academy of Ophthalmology, American Osteopathic College of Ophthalmology Otolaryngology Head and Neck Surgery, American Society of Cataract and Refractive Surgery, American Osteopathic Association, and Oklahoma Osteopathic Association.
Schedule a Consultation
Call today to schedule your consultation at Triad Eye Institute. Our team will work to create your customized treatment plan utilizing our leading-edge techniques and technology.