Glaucoma
Glaucoma is a group of diseases that damage the eye's optic nerve and can result in vision loss and blindness. However, with early detection and treatment, you can often protect your eyes against serious vision loss.
Several large studies have shown that eye pressure is a major risk factor for optic nerve damage. In the front of the eye is a space called the anterior chamber. A clear fluid flows continuously in and out of the chamber and nourishes nearby tissues. The fluid leaves the chamber at the open angle where the cornea and iris meet. (See diagram above.) When the fluid reaches the angle, it flows through a spongy meshwork, like a drain, and leaves the eye.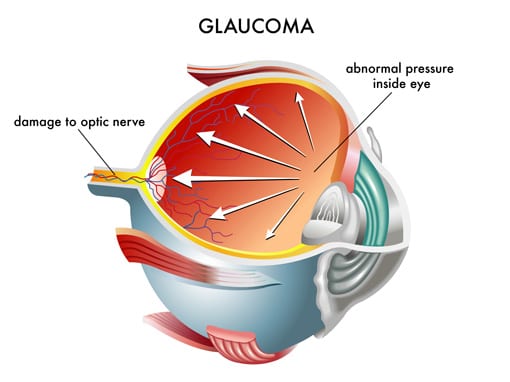 In open-angle glaucoma, even though the drainage angle is "open", the fluid passes too slowly through the meshwork drain. Since the fluid builds up, the pressure inside the eye rises to a level that may damage the optic nerve. When the optic nerve is damaged from increased pressure, open-angle glaucoma-and vision loss—may result. That's why controlling pressure inside the eye is important. Another risk factor for optic nerve damage relates to blood pressure.
At first, open-angle glaucoma has no symptoms. It causes no pain. Vision stays normal. Glaucoma can develop in one or both eyes.
Without treatment, people with glaucoma will slowly lose their peripheral (side) vision. As glaucoma remains untreated, people may miss objects to the side and out of the corner of their eye. They seem to be looking through a tunnel. Over time, straight-ahead (central) vision may decrease until no vision remains.
Meet Dr. Ahluwalia
Mary Anne Ahluwalia, D.O. is a board-certified ophthalmologist and fellowship-trained glaucoma specialist at Triad Eye Institute.
Dr. Ahluwalia performs comprehensive eye exams along with medical and surgical treatments for glaucoma, including microinvasive glaucoma surgery (MIGS), trabeculectomy and the implantation of glaucoma drainage devices.
Dr. Ahluwalia is a member of the American Glaucoma Society and American Academy of Ophthalmology. Dr. Ahluwalia is an active member of Leadership Tulsa and currently serves as a board member for the Autism Center of Tulsa and Tulsa Advocates for Rights of Citizens with Developmental Disabilities (TARC).
Schedule a Consultation
We encourage you to schedule a consultation with Triad Eye Institute today. During our meeting, we will advise on whether or not you have Glaucoma, as well as compose a custom treatment plan designed to achieve the clear vision you've always wanted. Call our office today and one of our seasoned staff members will be able to assist you.